CI STRUCTURES LTD – HIGH PERFORMANCE BUILDING SOLUTIONS
CI (Clearspan Instant) Structures Ltd is the leading European supplier of the Sprung Structure prefabricated framed membrane building.
High Performance
Semi-permanent
Affordable
Rapid Construction
Relocatable
Resaleable
Guaranteed fixed project costs
Purchase or Lease
From basic single skin warehouses to fully insulated fitness centre complexes, our durable, precision engineered structures are the solution of choice for a rapidly expanding range of industries.
Gymnasium and Indoor Sports Hall – Blackrock College, Co. Dublin
Blackrock College is one of Ireland's most prestigious boys schools. With over 1000 pupils, the school has an illustrious sporting and academic history.
In 2012, Blackrock College selected Sprung Structures to supply a fully insulated 1250 sqm sports hall. This multi-functional facility is marked out for basketball, volleyball, badminton and indoor soccer but critically, it is also designed for use as a meeting/exam/corporate hospitality venue.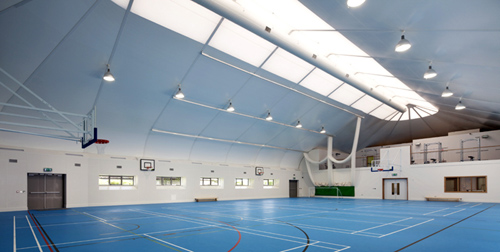 The internal build includes two large dressing rooms, toilets and showers along with a sports master's office that looks out into the hall. A staircase and lift lead to a mezzanine level which has an extensive free weights and training area with other general purpose rooms also on this level.

PRODUCT INFORMATION

Aluminium Substructure | Architectural Membrane | Insulation | Environmental Information