ALUMINIUM SUBSTRUCTURE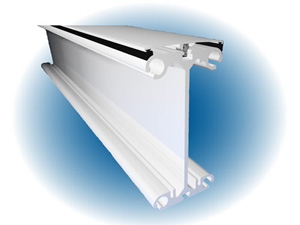 A highly versatile alternative to steel, the rustproof extruded aluminum substructure of a Sprung structure provides a cost-effective, lightweight and easy to assemble solution. Aluminum offers exceptional adaptability and life expectancy.
The Sprung structure showcases the strength, lightness, beauty and simplicity of aluminum as a building material. A unique combination of properties makes aluminum one of the most versatile engineering and construction materials in the world.
With aluminum, virtually any shape can be extruded. This allows for fitted and bolted connection points rather than welded connections frequently seen on steel.
With a specialized high strength aluminum alloy, our substructure has an unlimited lifespan. Sprung structures are engineered to meet or exceed the requirements of most building codes and standards worldwide.
ADDITIONAL ALUMINIUM INFORMATION
Shipping
Aluminum's exceptional strength-to-weight ratio equates to weight savings of approximately 66% over equivalent steel structures. This means substantially more product can be loaded on a flat bed truck, in a shipping container and on an aircraft.
Life Expectancy
Aluminum has an indefinite life expectancy and actually increases in strength with age. Aluminum does not suffer from the corrosion inherent in steel structures.
Flexibility of Design
There are no limits to the shapes and sizes possible with aluminum extrusions allowing for fitted and bolted connections.
The Environmental Choice
Aluminum is 100% recyclable with no loss of quality.