INSULATED CROSS SECTION
We continually research and test to determine the best available products for our structures. An important component of our structures is the optional insulation package.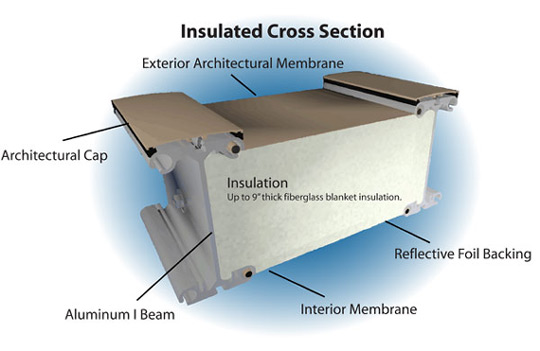 THE BENEFITS OF INSULATION
In addition to providing comfort, reducing the cost of climate control and absorbing sound for better acoustics - properly insulating a structure helps reduce energy costs and makes financial sense even for relatively short-term applications.
Our comprehensive insulation package includes vapor barriers and a tensioned, attractively finished interior liner in the color of your choice. The liner eliminates the need for additional interior build-out for aesthetic reasons. The finished product possesses outstanding acoustical characteristics.
JOHNS MANVILLE FORMALDEHYDE FREE FIBREGLASS BLANKET
We use Johns Manville Formaldheyde Free fibreglass blanket. It is the only such formaldehyde free product available in the world. With virtually zero formaldehyde in this insulation, we reliably insulate with a thin foil backed blanket of this safe, fibreglass insulation. We agree with Johns Manville: "It is smart. It is better. It is the right thing to do."
Aluminum foil backing adds to the overall efficiency of the insulation package by assisting with the containment of radiant energy.