BLACKROCK COLLEGE, DUBLIN, IRELAND
Blackrock College is one of Ireland's most prestigious boys schools. With over 1000 pupils, the school has an illustrious sporting and academic history.
In 2012, Blackrock College selected Sprung Structures to supply a fully insulated 1250 sqm sports hall. This multi-functional facility is marked out for basketball, volleyball, badminton and indoor soccer but critically, it is also designed for use as a meeting/exam/corporate hospitality venue.
The internal build includes two large dressing rooms, toilets and showers along with a sports master's office that looks out into the hall. A staircase and lift lead to a mezzanine level which has an extensive free weights and training area with other general purpose rooms also on this level.
With a translucent membrane running along the apex of the structure and the use of an integrated window system, the hall is full of natural light, leading to significant savings on energy costs.
Rainwater flowing off the structure is collected in harvesting tanks which in turn is recycled into the building and also used to water the adjacent playing pitches.
This affordable and highly energy efficient structure was completed in 7 months and has provided the school with a superb indoor sporting arena.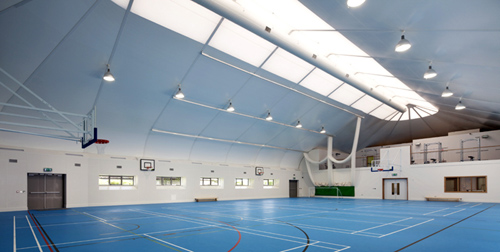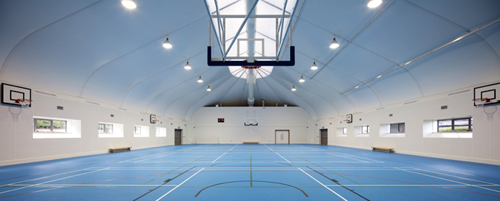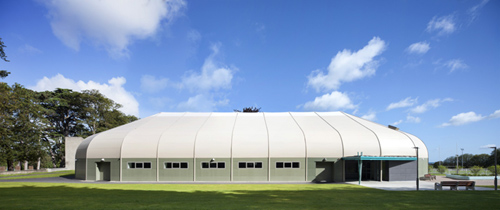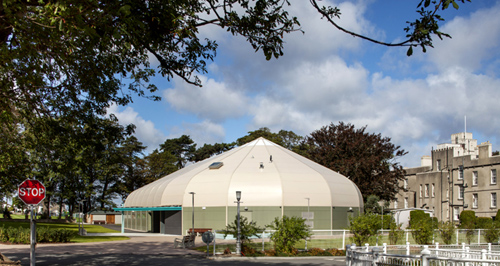 Requires Adobe Reader | Top of page